On 9th February 2016 we encouraged everyone to play their part and #shareaheart for Safer Internet Day, and the social media campaign was by far the biggest one yet! 
We used the heart, a universal sign for love, to promote respect and kindness online this Safer Internet Day and encouraged schools, organisations and individuals to take to social media and share their own heart filled messages, images or videos using the hashtag #shareaheart. 
The response was incredible!
The #shareaheart Thunderclap kick started the social media campaign and reached over 4 million people in a mass social media post on the morning of Safer Internet Day!
Celebrities and young people met together for our very first Safer Internet Day InstaMeet, with hearts created by a fantastic London artist.
12,000 tweets were sent by schools, organisations and individuals who joined the #shareaheart social media campaign to help inspire kindness online.
 Here are some of our favourites....
More information about how people could have got involved:
How to get involved
Whether it's a positive message in our specially designed heart signs, a post filled with heart emojis, or something more creative, there are lots of ways you can get involved in the #shareaheart campaign.  
Download our #shareaheart information sheet and help spread the love this Safer Internet Day! 
Fill our heart with your own message and share it on social media:
We've created our own heart sign in grey, red and blue which can be filled with positive comments and shared on Safer Internet Day.  Need some ideas about what to put in your heart? We've got a few for you…
Positive statements and messages
The internet is for all of us and that's why we'd love to see our hearts filled with positive and inspiring messages, just like CBBC Friday Download presenters Molly and Harvey have done.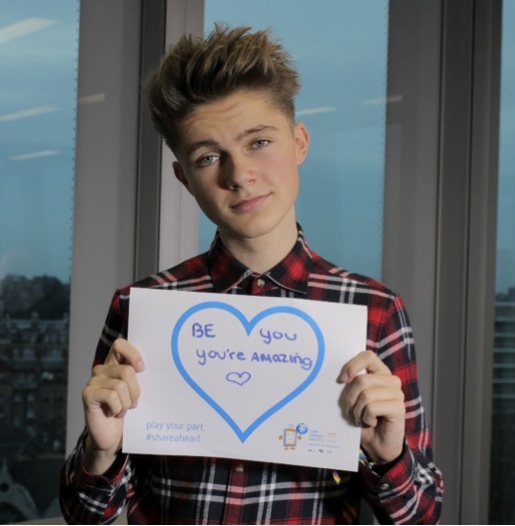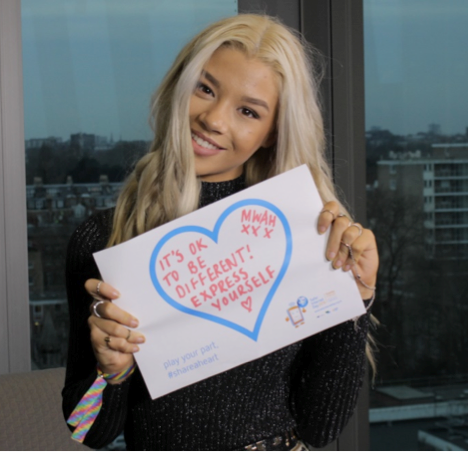 What do you love about the internet?
We want to hear what you love about internet!  Whether this is playing games with your friends, learning new things and talking to family all around the world, Safer Internet Day is a chance to share the amazing things the internet has to offer.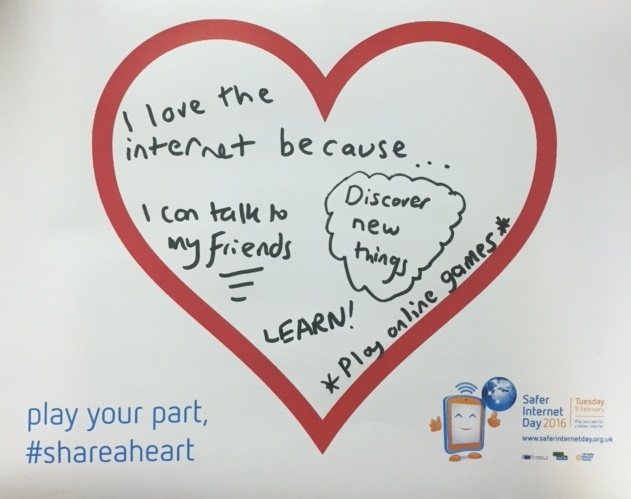 How are you playing your part?
Safer Internet Day is a chance for everyone to do something positive to help make the internet a better place.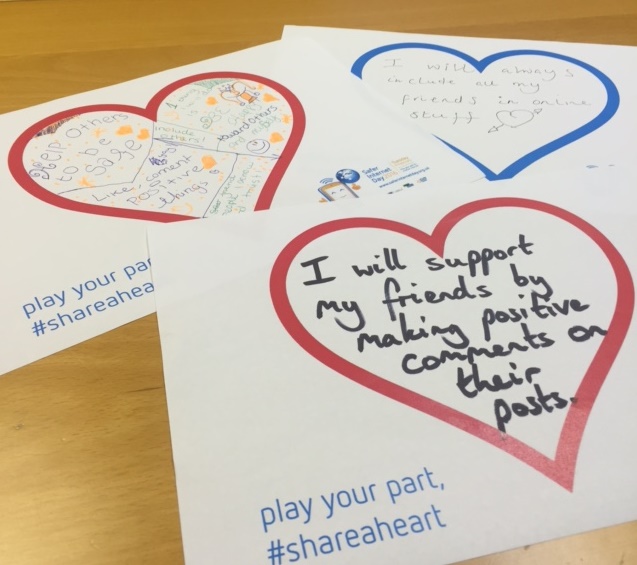 For example you could send a nice message to a friend, report mean comments or talk to your parents about what you like to do online. Share with us how you plan to play your part by writing your actions in the heart…
Our #shareaheart signs come in grey, red and blue and are available to download now. 
Remember though the hearts are to be used on Safer Internet Day on 9th February 2016.
Get creative and make your own heart image, video or message:
Now is the time to get creative and start making your heart messages, images and videos for Safer Internet Day! 
We will be sharing lots of ideas over the coming months, so keep an eye here for more inspiration.