2015 SID TV
SID TV was brought to you on Safer Internet Day 2015!
SID TV is for young people and is presented by Molly and Harvey from CBBC's Friday Download show. We talk about being kind online and what being a good friend online means - it is up to every one of us to make the internet better!
On SID TV, there is fun, information, performances and messages from our celebs and even our very own puppets Red & Murphy.
And even though, Safer Internet Day 2015 has gone, we hope you continue to enjoy SID TV! It can be watched any time on demand, either at school to start discussions in the classroom about any of the topics we feature, or at home - to inspire conversations with friends, siblings, parents or other members of the family. 
The programme has something for children from 8 to 15. Our puppet sketches are great for our younger viewers & interviews and opinions are aimed for tweens and teens. If you are planning to use SID TV in the classroom, review the programme in advance to choose the parts and topics that will be relevant and age-appropriate for your pupils. 
SID TV was produced in partnership with our great friends from the Diana Award Anti-Bullying Programme.  
You can watch SID TV here or on our Youtube channel on Safer Internet Day.
SID TV 2015 - PART 1
In Part 1 of SID TV we talk about standing up to bullying, vlogging and what it is like to start your own internet business as a young person. Plus we have tips on using Facebook, Instagram, Google & YouTube safely. We also have messages and performances from celebs and an exclusive duet from Molly & Harvey themselves! 
SID TV 2015 Part 1 is available to download here. 
SID TV 2015 - PART 2 
In Part 2 we take a look at how young people use the internet in our Well Versed film, and talk gaming & apps, plus some great tips on using Twitter safely .And of course, we have more messages and performances from our celeb supporters and some exclusive footage from DIVERSITY!
SID TV 2015 Part 2 is available to download here.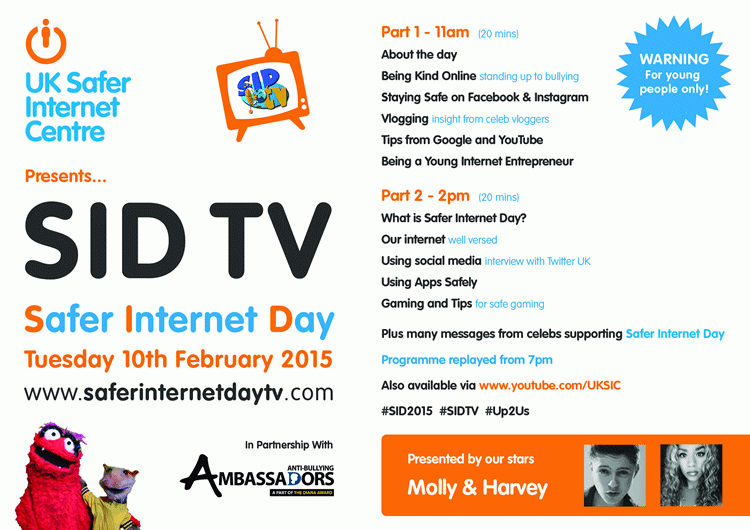 Download a copy of the SID TV 2015 programme.
Watch this space for updates and make sure you are following us @UK_SIC and @AntiBullyingPro. #SIDTV #SID2015 #Up2Us