The Anti-Bullying Alliance is calling on all schools and the wider community to take action against bullying this Anti-Bullying Week.
Taking place from the 17-21 November 2014, Anti-Bullying Week highlights the impact of bullying on children and young people in schools, communities and in cyberspace.
The campaign is a chance to keep bullying prevention on the national agenda by talking openly about its effects on young people. This year the focus is on taking action to stop the bullying of disabled children and those with special education needs.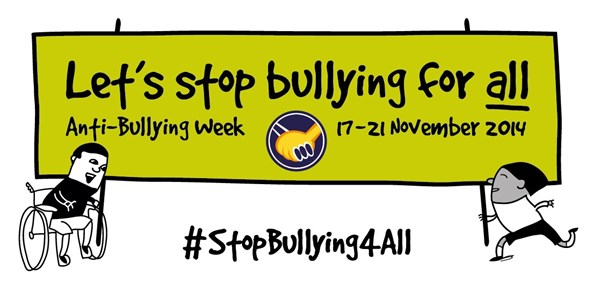 To provide school leaders, teachers and parents with the resources they need to discuss these issues the Anti-Bullying Alliance have created a two year programme of free training and resources, with the information sheets already available to download from the website. They have also joined forces with publishers Random House Children's Publishers UK (RHCP) to raise awareness of the issue of bullying though a writing competition for children and young people in schools and colleges in England.
The Anti-Bullying Week Campaign Pack provides lots of ideas on how to get involved including planning a Blue Monday event at your school and organising a fundraiser.  It also includes details of Safer Internet Day 2015, an opportunity to promote the safe, responsible and positive use of digital technology for children and young people.  
For more information on how to get involved in Anti-Bullying Week visit: www.anti-bullyingalliance.org.uk/anti-bullying-week/