Curriculum planning
Develop a progressive online safety curriculum in your school.
The most effective approach to online safety is to treat it as a whole school community issue, with educational messages embedded across Computing/ICT, PSHE, SRE and citizenship, as well as touching on online safety issues across the curriculum whenever and wherever children are using technology.
Developing your school's Digital Literacy Curriculum
South West Grid for Learning (SWGfL) has produced a fantastic resource – the Digital Literacy Curriculum which allows teachers to access free materials designed to empower pupils to think critically, behave safely, and participate responsibly in our digital world. You can browse the resource by Key Stage or Year Group, and find cross-curricular lessons which address digital literacy and citizenship topics in an age-appropriate way.
Childnet's resource bank can also be sorted by Key Stage and topic.
Online safety in the Computing curriculum in England
The Computing curriculum started from September 2014 and this provides a fantastic opportunity to develop your school's approach to online safety. 
The Programmes of Study for Primary (KS1 & 2) and Secondary (KS3 & 4) were published last year by the Department for Education.
Online safety is included in the Programmes of Study for all Key Stages to help ensure that young people are "responsible, competent, confident and creative users of information and communication technology."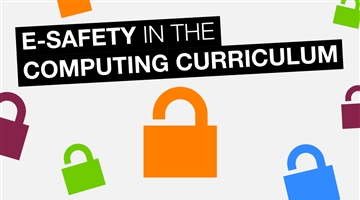 Childnet has created a resource, E-Safety in the Computing Curriculum, with guides for KS1, 2, 3 and 4 to highlight the key learning aims related to e-safety in the Computing curriculum and signpost to some key resources that can be used in the classroom to help deliver these aims. 
Online safety in PSHE and SRE
But online safety is not just restricted to the Computing curriculum!
PSHE and SRE provide great opportunities for approaching a range of key online safety issues such as cyberbullying, safe social networking, healthy digital behaviours, pornography, sexting, privacy and online reputation.
Although the government's statutory guidance for SRE was published back in 2000 and so has no reference to online safety, the government has supported the recent supplementary guidance published by Brook, the Sex Education Forum and the PSHE Association, which explains to schools how they can address key internet safety issues such as pornography and sexting in their school's SRE. The Sex Education Forum's magazine also has a Pornography Issue which discusses how to approach issues surrounding pornography in school. 
The importance of this is also recognised by Ofsted. In Ofsted's 2013 report PSHE Education: Not yet good enough it makes it clear that digital issues must be addressed in order to achieve 'outstanding'. It states that "the failure to include discussion of pornography is concerning" and it highlights that online safety was not covered in enough detail in schools where PSHE education required improvement, eg: "In some schools, pupils understood the importance of using security settings when using social networking sites but did not know how to actually set them or had not bothered to do so."